As the cold winds are leaving and the heat starts to rise, there is nothing better than taking a dip in a swimming pool. But imagine taking a dip in a pool big enough to sail a boat. Or maybe one so deep you need scuba gear to touch the bottom. Well, this is totally possible when you visit one of the many luxurious swimming pools in existence around the globe. But where can you indulge in this type of luxury? Let's take a trip to the 7 Most Expensive Swimming Pools in the World:
San Alfonso del Mar
Located on the southern coast of Chile, the exclusive San Alfonso del Mar pool is large enough to sail a boat in, should you have the opportunity. If you swam the entire length of the pool, you'd swim over 4/5ths of a mile. It is 6000 times larger than an average hotel pool and was named in 2008 as the largest pool by the Guinness Book of World Records. The pool took five years to construct and is currently not available to the public. However, residents of the San Alfonso del Mar resort can enjoy a luxurious dip. Perhaps this would be an incredible destination for a family vacation south of the equator (should you know anyone who happens to live there!).
Seagaia Ocean Dome
If you are in Miyazaki, Japan, on a cold day but still crave a swim, head on over to the Seagaia Ocean Dome. This opulent swimming pool looks less like a pool and more like a personal beach. The pool is nearly 1000 feet long and 328 feet wide and boasts a retractable roof to let the sunshine in on warmer days but to shield guests from the cold winter winds. This resort even has an artificial volcano that erupts every 15 minutes and there are days marked solely for surfers to practice their craft.
Nemo 33
This is the best swimming pool for those wanting to practice their diving techniques. Located in Brussels, Belgium, the Nemo 33 is 108 feet deep and holds an incredible 660,000 gallons of water. It is filled with underwater tunnels and rooms for guests to discover. There are windows located at different levels within the facility to allow non-divers to see the structure at various depths. It opened to the public in 2004 but is primarily used by scuba divers and film crews for underwater movie scenes. And certified divers can gain access for just $30 USD. Lessons are also available to learn how to dive safely.
Hearst Castle
Built in 1924 & 1936 respectively, the Heart Castle houses two affluent pools and are by far the most famous swimming pools in the world. The Neptune pool is located outside and is 104 feet by 58 feet. Inside, you will find the Roman pool, which is slightly smaller. Their design is influenced by ancient Roman bath houses and have priceless marble and tile mosaics. The entire Neptune pool, including walls, is covered in thousands of mosaic tiles lined with gold. Visitors can tour the mansion year-round, but swimming is only allowed under special circumstances. The mansion holds benefit auctions, allowing people to bid for a chance to spend an evening on the property and utilize the pools.
Gellert Thermal Baths
In Budapest, Hungary, the Gellert Thermal Baths is one of the world's oldest and most famous public bathhouses. It was built between 1912 and 1918, and its style reflects the Art Nouveau of the time. It is indeed beautiful and holds unparalleled historical value. The baths feature multiple pools measuring more than 700 square meters. There is also an outdoor wave pool, children's pool, and a Roman bath. Filled by over 100 hot mineral springs, these thermal baths are believed to hold magical and therapeutic properties. It even features a retractable roof to allow swimmers to enjoy the sun's rays on clear days. And since the baths are open to the public, anyone can swim there for a nominal fee.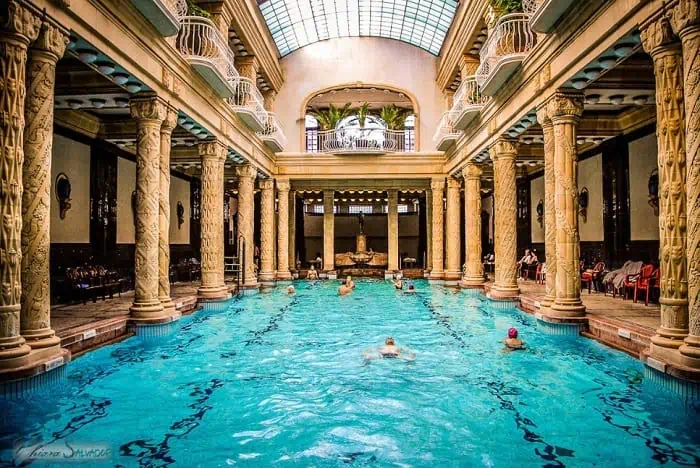 Sarojin Resort
Thailand's Sarojin Resort has one of the most luxurious and exclusive swimming pools in the world. This multi-million dollar resort hosts an infinity pool that measures 25 square meters. It overlooks the Indian Ocean and invites guests to lounge in the tropical setting or relax on floating pavilions within the pool itself. To top off your lush experience, you can even schedule a massage at one of the floating tables.
City of Stars
Crafted by the same people who built the San Alfonso del mar pool, the City of Stars is located in Sharm el Sheikh, Egypt. It is scheduled to open this year and, once finished, will be a full kilometer larger than the current largest pool in the world. It is part of the City of Stars resort complex and available to residents and guests staying in one of the many hotel rooms or condos. Guests will even be allowed to sail a boat inside this massive pool, if so desired.
If you are interested in having your very own luxurious swimming pool in your Atlanta home, consider RCS Pool and Spa. They are specialized in indoor or outdoor inground pools or spas. If you have a unique design idea for your pool, they can help make it a reality. Even multilevel pools can be done through their services. This is the ideal company to build the swimming pool of your dreams in your Atlanta home.
Do you want to know how to get your dream swimming pool in your home? Click here.